We, a couple of friends who are immigrants to Hyderabad, from other states, mostly in the north of India, were talking about the formation of Telangana and its impact on Hyderabad.  We have been living in this city for the past 2-10 years and have, at best,  a love –hate relation with it. We like somethings about it and also passionately hate a few other things about it. There is the population problem, the endless pissing alleys, on one side and the chai shops where you can sit for hours (okay minutes) without anybody batting an eyelid and the famed respect for women, though fast disappearing. Also on most of our love –lists is the burgeoning cultural scene here. We have a reasonable theatre, cultural and movie scene here. Hyderabad also falls in–between say lah –de- dah Bangalore and Indore. It is not as expensive as Bengaluru and also cosmopolitan enough, with everyone understanding and speaking Hindi, which is why most of us are here.
With the formation of Telangana , we, the émigrés  in general,  and I in particular, feel that we could be bidding adieu to this cosmopolitan, culturally active Hyderabad and we could suddenly find ourselves in a narrow cul- de-sac in the state of Telangana. The ground is shaking beneath our feet, real hard…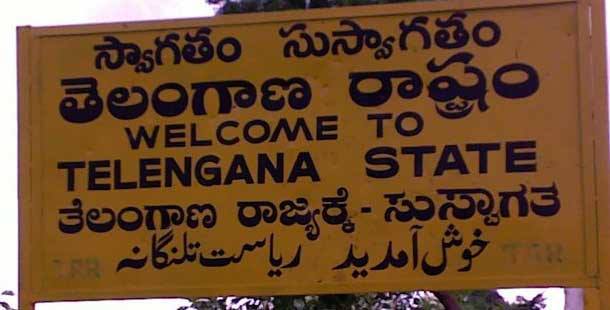 Already there are unrests regarding Rayalaseema government officials working in Hyderabad and we fear that these protests could spill into the private sector as well. Most of us émigrés are employed with IT firms and media companies and we are apprehensive about what could suddenly develop sometime in the near future.
KCR has also been a firm advocate of the genuine Telangana culture and Telugu spoken with the right Telangana accent. Telangana's culture and language was being usurped by the Rayalaseema culture, as per his argument and hence the demand for a separate Telangana. This makes me worried about whether language could suddenly become a big issue in the coming times. We are happy speaking English and Hindi but if there is a sudden clamor about speaking Telugu with the pakka Telangana accent, it could more than rock our boats.
What else??? The political dynamics that have (almost ) resulted in the formation of the 29th Indian state may sound the death knell for the development of Hyderabad. There is a sizable population of Muslims and backward classes in Hyderabad, compared to Seemandhra. This would make Hyderabad a hotbed of politics. We all know Congress's likeness for huge minority populations which they can milk for votes. The alliance between Congress, KCR and the hate mongering Owaisi brothers is thus a big cause for worry for us peaceful souls who want to work and live a decent life.
The political instability will certainly affect the FDI in Hyderabad, so one can reasonably expect that Hyderabad will no longer be the Cash cow that it is in the coming times. If Hyderabad loses in terms of money, jobs and economic growth, the émigrés will suffer the worst. And these are the people who have worked their asses off for the development of this city.
Now, while all of us wait with bated breath for more news on Telangana and its composition , we can't help calling each other up and arranging to meet,' as before',  for a French movie or a theatre performance , all the time reiterating that 'let's do this, while we still can.' Because we just don't know what tomorrow and KCR/ Congress will bring in months to come.