SWOT analysis stands for analysis of your strengths, weaknesses, opportunities and threats. To be successful in life, one must know their SWOT analysis. Enhancing your strengths, working on your weaknesses, grabbing opportunities and eliminating threats are must for achieving what we want.
All great successful people knowingly or unknowingly have done their SWOT analysis. If Sachin Tendulkar practised bowling or Shahrukh practised singing. Imagine, what would have happened. These people knew where their strength lies; they knew what they are good at and bad at. Not only for an individual, but all top organisations, MNC'S perform SWOT analysis.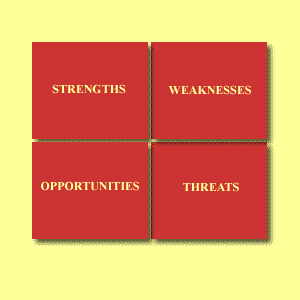 The things below will give you an idea about the things one must consider and incorporate while doing SWOT analysis.
Strengths:
Strengths are your internal, positive attributes and selling points, USP'S.
Positive personal traits.

Relevant skills, competencies, knowledge and work experience.

A solid education.

A strong network.

Commitment, enthusiasm and passion for your field.
Weaknesses:
Weaknesses are your internal negative attributes.
A lack of career direction or focus.

Negative personal characteristics and poor work habits.

Weak professional or career-management skills.
Opportunities:
Opportunities are uncontrollable external events that you can potentially leverage.
A specific job opening.

Favorable industry trends.
Threats:
Threats are uncontrollable external factors that may work against you and require you to take protective action.
Reduced demand for one of your skills.

A company decision maker who does not like or support you.

Evolving technologies you're unprepared for.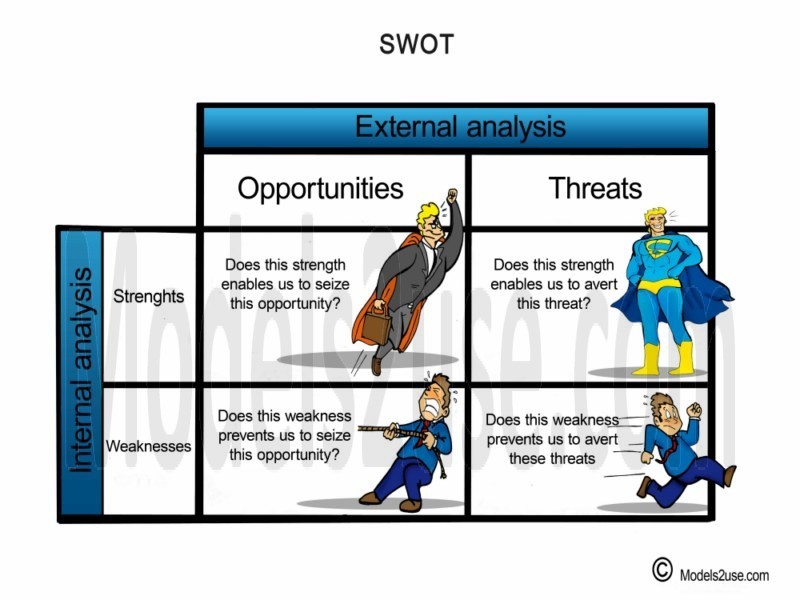 The above are certain things to be considered while preparing a SWOT analysis. In today's world where everything is so organised, competitive, having a detailed SWOT analysis might do wonders for you. It can add a great value to your resume for jobs. What you do in your life decides how far will you go and THE SWOT ANALYSIS lets you know what you are good at.
Remember the words of Steve jobs   "You can't connect the dots looking forward; you can only connect them looking backwards. So you have to trust that the dots will somehow connect in your future. You have to trust in something."
Image Courtesy: Models2use.com