I am a girl who is called to be dad's little princess. The day I born I brought smile on my dad's face and lots of happiness home. Being a girl is the most beautiful and amazing thing in this world. A girl is a bundle of surprises, joy, happiness, charm, liveliness and all the good adjectives found in the dictionary. It is the proudest moment for a mother when she gives birth to a girl baby but the baby does not remain a child for ever. "She is a child and then, one morning you wake up, she is a woman and a dozen different people of whom you recognize none" said, Louis L' amour.
A girl starts her journey as an angel for her parents and become the sweetest sister for his brother by taking care of him and giving away all her chocolates and turns to be a best friend for her little brother. Then she turns to be a teen worrying a lot about her hair make up just to look beautiful to his love, carries herself in a best way to impress her love. Takes all the pains which comes her way and stands bold and strong enough with everlasting smile. Loves to be complimented by others, cares a lot about her looks when she is around the people.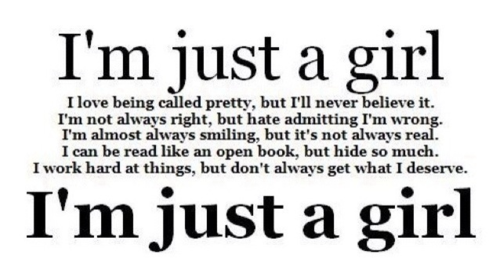 Then one day I will turn to be a woman. Love can be resembled by women. She holds the faith for stepping ahead in life. Creates a new world to her children where they are safe enough in her arms. Teaches to respect others but lacks in being respected by others for the abilities which she posses. Bounds her into the relations and accepts new relations with smile. Leaves her family and home to fill sum one's home with happiness. Loves to do lots of shopping as that is the only place where she can choose what she likes. Stand still at difficulties with a smile and puts her strength to overcome it.
Every morning I pray god and thank him for giving such a wonderful life. Where I see a beautiful journey of being a daughter sister wife and I will be completed as a mother. Though the journey will be completed after making many sacrifices of my likes but I am happy that I am a girl.
"Give a girl the right shoes, and she can conquer the world."