After numerous amounts of rumors, leaks, Nokia finally announced Nokia Lumia 1020 with an amazing 41 MP Camera. Read more to know about this amazing flagship device.
Nokia Lumia 1020 has been the most anticipated Windows Phone 8 flagship device from Nokia and almost all of the leaks have proved to be true. Camera aside, the Lumia 1020 is largely unchanged from the specifications of Nokia's Lumia 920 and 925. Nokia is adding 2GB of RAM instead of 1GB, and it's opting for a 4.5-inch AMOLED display like the Lumia 925.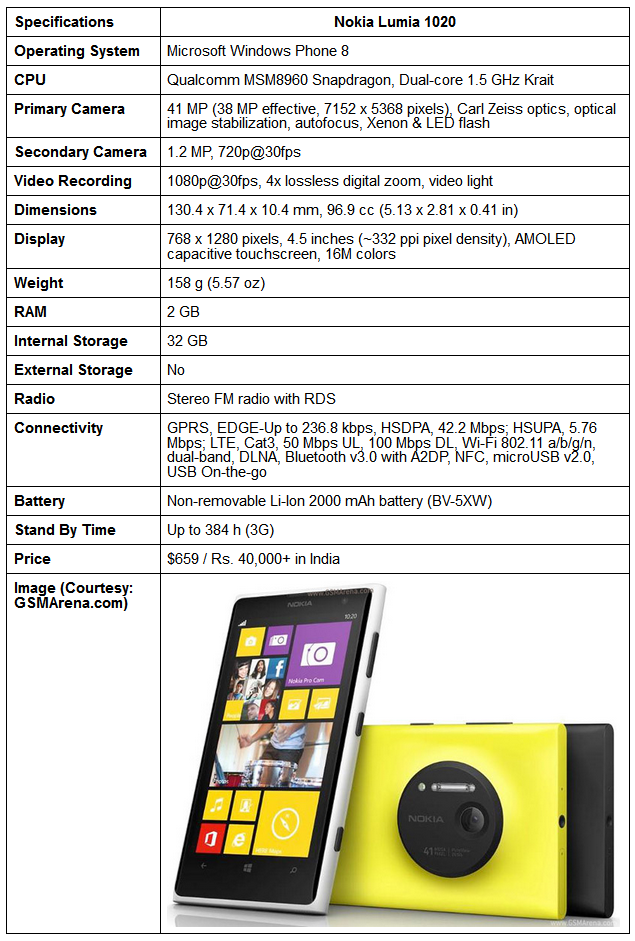 Know about the 41 MP:
That 41-megapixel sensor also allows the Lumia 1020 to use "lossless zoom." Since the sensor is so pixel-dense, when you zoom before taking a photo the Lumia 1020 will only use a portion of the sensor to take the photo — effectively zooming you in without degrading quality as much as you would with traditional digital zoom on a smartphone. Nokia's also tossed in a "Pro Camera" app that looks pretty promising. The UI is made up of a series of semicircle sliders that reminds us quite a bit of the Samsung Galaxy Camera's interface, but the headline feature here is manual focus.
Overall, it seems there's good reason to be excited for the imaging performance on the Lumia 1020. So are you going to buy one? Let us know your view in the comments below.