Microsoft has developed a touch screen that will give users the tactual feedback necessary to feel like they are moving a virtual object on the screen through space.  An LCD flat screen is combined with force panels and a shifting robotic arm to create the illusion of manipulating objects through space.  The screen would provide resistance comparable to how the object would feel in reality.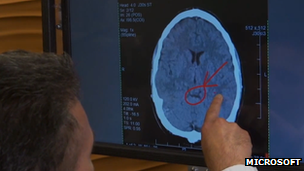 The screen is designed to maintain contact with the users' finger and create the illusion that they are manipulating the surface of the object on screen.  To create the illusion, the robotic arm on the back of the screen moves back and forth, pulling the screen forward and backwards based on the amount of force the user places on the screen and how the object on the screen would react.  So if you think you are pushing a wooden block, the screen would pull away easily. However, switch that wooden block with a brick and the screen will resist significantly more so when pushed.  The screen will also shift depending on the shape of the object being manipulated.  Rectangular as well as spherical shape will feel like they actually do if the calibrations mesh perfectly.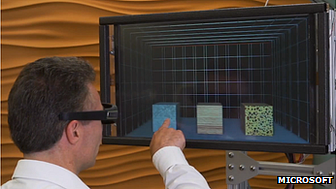 To Microsoft, this unit has medical potential.  Doctors could explore body scans such as MRIs which a medic could navigate around by pushing and prodding their way through the images.  The medics could also leave marks to make finding points of interest easier later or for secondary parties.  This could even extend to flagging potential problems in the future of the patients life.
Right now, a problem is that the screen is smooth and doesn't give the full tactile sensation.  Technology would need to be developed in order to give screens an adaptable tactile screen.  A close example being the Tactus, a device whose screen essentially grows bumps to create buttons.