So, ICC announces the groups for the 2015 Cricket world Cup to be held in Australia and New Zealand.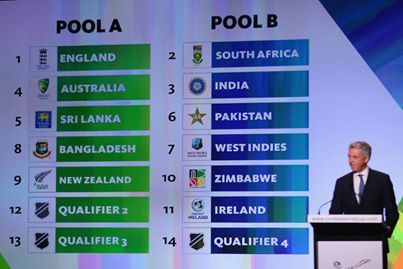 As seen in the image above,
Group A includes England, Australia,Srilanka,Bangladesh,New Zealand, and 2 qualifiers from the associate nations.
Group B includes South Africa, Pakistan, West Indies, Zimbabwe, Ireland, one qualifier from associate nations and defending champions India.
Melbourne will again host the World Cup final in 2015, while Sydney and Auckland will host semi-finals just as they did in 1992.
Christchurch will host the tournament's opening match between New Zealand and Sri Lanka on February 14 at Hagley Oval, while later that same day Australia will play England at the MCG.
Fans will be in a frenzy when the cup holders India commence their tournament by facing Pakistan in Adelaide the following day.
The tournament will feature 49 matches across 44 days in 14 cities throughout February and March of 2015. Australia's 2014-15 Test summer has been shortened to a mere four matches against India in order to leave room for the cup's lengthy schedule. A 14-team format has the competitors pitted in two groups of seven, each to play six pool matches before the top four in each group advance to the quarter-finals, semis and final.
Venues :  Adelaide, Auckland, Brisbane, Canberra, Christchurch, Dunedin, Napier, Nelson, Hamilton, Hobart, Melbourne, Perth, Sydney, Wellington