I'm sure anyone who has ever had to be anywhere can relate to this situation:  You need to be somewhere, but it seems like the forces of nature are all against you arriving on time, if at all.  This becomes particularly troublesome when the distance between yourself and your destination is particularly long.  It's one thing to be late to work or school due to traffic.  It's another thing entirely if you can't head hundreds of miles away to get to an important business venture or funeral on time.
Billionaire, Elon Musk, founder of Space X and Tesla Motors, figures to put an end to problems like these, provided they happen in a distance of 900 miles (1448km) or less (which is plenty).  He introduces his concept of the Hyperloop, a transportation system that WILL get you where you need to go and fast.  Musk boasts that the Hyperloop could travel from Los Angeles to San Franciso, nearly 400 miles (644km) apart and a five hour drive in 30 minutes.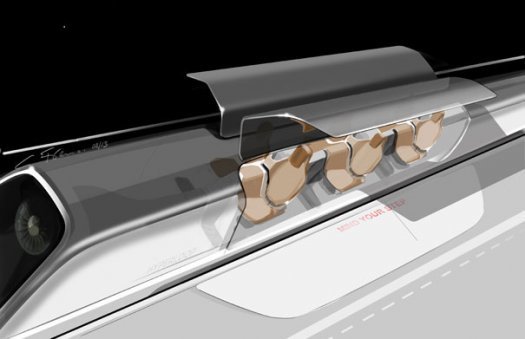 The most surprising element about Hyperloop is that it isn't a Maglev train design.  It's a pod on an elevated, low-friction track that functions using air bearings technology.  The pod produces the air and propulsion to speed it along the track at over 700 mph (over 1,120 kph).  At fixed intervals, the motor in the pod would provide additional boosts to individual pods.  At these same intervals, the pod may decelerate to reach their destinations safely.
So it moves fast, we get that.  How does this help the consumer out so that they can get where they need to go?  Hyperloop can transport over 800 passengers in an hour with the kicker being that over 70 pods can be sent out every 30 seconds.  Missed your pod?  Don't worry, the next one will be there shortly much like a subway train.

Unfortunately, it will be quite some time before the Hyperloop can see any kind of serious development.  Musk is a busy man after all.  However, he projects (even at this early stage in Hyperloop's development) that it would take perhaps 7 or 10 years before Hyperloop was finished.  The prototype could be finished in three or four years.