September 4, 1998 was the day when Google was launched. Since then there were many milestones and amazing things Google brought to reality. Read this post to know 15 most uncared things about Google.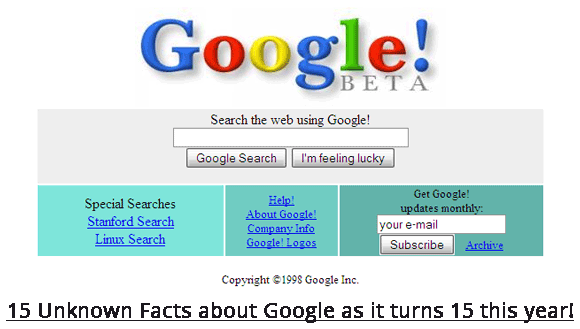 1. Google earns from rival companies: Apple, Microsoft, Yahoo are among those companies which use Google's services. Google pays over $300 million to Mozilla to stay the default search engine on the home page. This is almost all the money mozilla gets to keep running.
2. Google's Unofficial slogan is "Don't be evil" and its official one is "to organize the world's information and make it universally accessible and useful."
3. Worth of Founders: Both Larry Page and Seregy Brin own just 16% of the whole company, yet their combined assets have a value of over $46 billion.
4. First ever tweet by Google was the words "I am feeling lucky!" in binary numbers.
5. GMail: GMail was the brainchild of Rajen Seth, during the interview to join Google which was later developed by Paul Bucche. Initially it was used as an internal email service for Google employees but went public in 2004 making fun of paper based archiving by introducing "GMail Paper".
6. Everyone knew that Google went public in 2004 but this Google IPO turned many employees into millionaires.
7. Doodles: First doodle was introduced in 1998 to celebrate burning man's festival and the very first interactive doodle went on line in 2012 which was in celebration of the 30th anniversary of the game PacMan in association with Namco.
8. On an average, since 2010 Google acquired one company every week and the most famous names include QuickOffice, Motorola Mobility, Android etc.
9. Datacenters: With each datacenter having 115,000 square feet of space, Google owns 9 such DCs around the world and Google uses the outside chilly air and seawater to cool its data centers in a greener way. It also uses a recycled waste water mechanism to cool its DC in Douglas County, Georgia.
10. Page and Brin wanted to sell Google for $1 million. They approached Excite's CEO but he thought it was not good to offer more than $ 750,000 which was not accepted by the duo.
11. Android being named after desserts and sweets has always been a big wonder to many around the world. "It's kind of like an internal team thing, and we prefer to be a little bit – how should I say – a bit inscrutable in the matter" says an internal team member.
12. 200,000 million CAPTCHAs are solved each day by Google's computer to read and recognize text. Google's computers learn how to identify words scanned from books even if they're warped.
13. Data: More than 100 million gigabytes is the data being handled by Google. It would take 100 million 1 TB hard drives to contain the same amount of data.
14.  The world watches 450,000 years of YouTube videos each month which is over twice as long as modern humans have even existed and Google will stand out to be the only company in the whole world to ensure with the reduction in the time spent by a person on their website.
15. In house chef of Google leads 150 employees on the whole who were serving about 4000 daily lunches and dinners in 10 cafes across the company's head quarters campus in Mountain View, CA. Ayes was the first hired head chef in 1999, who left in 2006 and this was the static from the time then.
Weren't they really unknown to you? Had fun reading them? Let us know if you have any more unknown facts to the world in the comments section below.
Source: EFYTimes.com